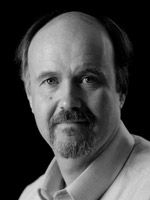 Erik Nielsen's compositional catalog includes works for chorus, orchestra, wind ensemble, solo instruments, chamber music of many configurations, works for dance, film and electronic music. His works have been performed in Canada, Europe, Asia, South America and Australia as well as many locations in the United States and have been performed by ensembles including the Amabile, Chiara, Emerson and Ying String Quartets; the National Symphony Orchestra; the Killington and Manchester Chamber Players; Bread and Puppet Theater; the Vermont Contemporary Music Ensemble; Vermont Opera Theater, Vermont Symphony; Vermont Youth Orchestra and Village and Northern Harmony.
He has won awards from ASCAP, the Vermont Arts Council, and in 1991 was chosen Vermont Composer of the Year by the Vermont Music Teachers Association. His most recent commissions include a song cycle, The Falling of Trees for baritone and piano quartet, premiered by the Rochester Chamber Music Society in Rochester, Vermont on July 8, 2007; his Quartet for Strings #2, premiered by the Chiara Quartet at The Chandler Center for the Arts in Randolph, Vermont March 15, 2008 and for which he received a Composer Assistance Program grant from the American Music Center in March, 2008; and Cinque Amici, a work for flute, clarinet, violin, cello and piano premiered by the Vermont Contemporary Music Ensemble April 17 and 18, 2008, for which he received a Creation Grant from the Vermont Arts Council in August, 2007.
In 2002 he received the National Symphony Orchestra's composition prize for Vermont. The resulting commissioned work, Mr. Nielsen's Quintet for Clarinet and Strings, was premiered at the Kennedy Center in Washington, D. C. on March 20, 2004. In October, 2000, his opera, A FLEETING ANIMAL: An Opera from Judevine, a collaboration with poet/playwright David Budbill, was premiered to great acclaim in several locations in Vermont. He was a 1994-95 recipient of a Vermont Council on the Arts Fellowship in music. In 1995 his piano quintet was performed at Carnegie Hall by the Manchester Chamber Players. He has been a recipient of ASCAP Standard Panel (now ASCAP PLUS) awards annually since 1993.
Mr. Nielsen is senior composition mentor with the Vermont MIDI Project. He also teaches music theory and composition with the Vermont Youth Orchestra. Mr. Nielsen lives in Brookfield, Vermont.
. . .lyrical, intimate, colorful and extremely beautiful. They are exquisitely written for piano, using both the colorful and the percussive effects of the instrument. — Diane Huling, pianist (about Sketches)

Fleeting Animal is a beautiful, living work that deserves and needs to be seen and heard for years to come. –Dr. Lisa Jablow, singer and conductor

Erik has something to say, and his music touches listeners and communicates elegantly. –Troy Peters, Music Director, Youth Orchestras of San Antonio

Your podcasts answer questions I did not even realize I had —Gregory  Fraser, Ontario, Canada

It's been a long time since I've gotten choked up onstage while performing, but it happened every time during  Melancholy Thoughts. –Wendy Hoffman Farrell, mezzo soprano