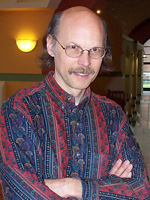 David Gunn has written for symphony orchestra, chamber ensembles, adventurous vocal groups, theremin, and Ray Bradbury's Pandemonium Theatre Company, though his professional flute-playing spousal unit has recently helped channel his flutecentric oeuvre. Turns out, this has been a good moeuvre. I mean move. His first tune for flute choir won the inaugural National Flute Association's Flute Choir Composition Competition, which involved a cash award, always a plus. That tune, along with two other flutecentric commissions – a word Gunn hears all too infrequently – was performed last month at the NFA convention in sunny Nevada before oodles of seemingly counterpoint-starved woodwind aficionados. Two of his compositions for flute and playback were recommended by the NFA's Low Flute Committee for the 2011 and 2012 Selected Flute Repertoire. He's been told there's money there, too.
For 10½ years, Gunn co-hosted the radio show Kalvos & Damian's New Music Bazaar, which won an award once. Or twice, actually, generating even more welcome loot. He also writes laconic stories (postcardium parablinii) and posts them on his website.
Looking ahead, the tenth anniversary of Somewhere East of Topeka, a CD of his chamber music performed by VCME and released by Albany Records, is nearly nigh, and brisk sales are anticipated any day now. Gunn lives simultaneously in Barre, Vermont, and in hope of, in order, peace on earth, good will towards men, and a pile of cash in the bank.