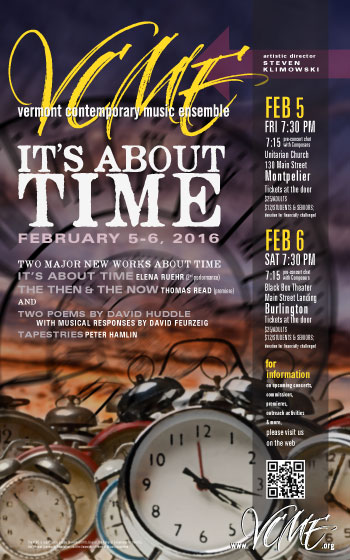 Concert 2 | February 5 and 6, 2016
It's About Time
New major new works about time by Elena Ruehr and Thomas Read.
Elena Ruehr's It's About Time (2nd performance)
Thomas Read's The Then & The Now (premiere)
plus
Two Poems by David Huddle with musical responses by David Feurzeig
and
Tapestries Peter Hamlin
Program Notes:
The Vermont Contemporary Music Ensemble presents a concert featuring two major works by two major New England composers. Last year the San Francisco Contemporary Music Ensemble commissioned Elena Ruehr to write a work for chamber ensemble. The result was the three movement work It's About Time for the unusual ensemble of violin, cello, clarinet, guitar, harp and side drum. A light, airy and upbeat work that is the exact instrumentation that the VCME has used in several of it's Poetry & Music concerts so the VCME director took note. After seeing the music he decided to program the work and have Vermont composer Thomas Read write a contrasting work with a similar instrumentation. The result was a darker, single movement, nocturne for the same ensemble omitting the violin, changing the clarinet to bass clarinet and expanding the percussion. So this concert features two strikingly different works by two of today's finest composers.
This performance will feature just the second performance of Ruehr's It's About Time and the premiere of Thomas Read's The Then and the Now. Also on the program are two short works by David Feurzeig written in response to poems by David Huddle and Peter Hamlin's Tapestries for bass clarinet and guitar. There will be a pre-concert talk with the composers preceding the concert at 7:15.
Thomas Read has been is the dean of Vermont composers; an emeriti professor of music at UVM. His works have been performed throughout the US and Europe. The VCME has commissioned him many times and recorded his works. For more information http://thomaslread.com/
Elena Ruehr is an award winning faculty member at MIT, she is also a Guggenheim Fellow and has been a fellow at Harvard's Radcliffe Institute and composer-in-residence with the Boston Modern Orchestra Project, which performed and recorded her major orchestral works. For more information http://www.elenaruehr.org/wp/
The Vermont Contemporary Music Ensemble (VCME) is a new music ensemble specializing in performance and recording of rarely heard 20th and 21st Century chamber music and works by living composers. The ensemble also regularly commissions today's composers and facilitates outreach activities. VCME has made a significant contribution to the music scene in Vermont with over 120 commissioned works and many more premiere performances.
VCME gives annual concert presentations in Burlington & Montpelier with preconcert lectures and post concert receptions, provides professional development support for composers and performers, and conducts outreach activities for students of all ages.
For more information, contact Artistic Director, Steven Klimowski.