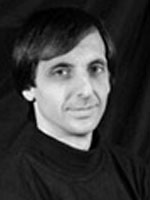 Daniel Gordon, chair of the music faculty at SUNY Plattsburgh, is an active performer on the saxophone both in this region and abroad. Regionally, he performs frequently as baritone saxophonist in the Frontier Saxophone Quartet, which he founded with performers from the Plattsburgh region and Montreal. Gordon also performs regularly as director of the SUNY Plattsburgh saxophone ensemble, which he founded in connection with his responsibilities as saxophone instructor at SUNY. Abroad, Gordon was a part of the saxophone teaching corps at the Domaine Forget International Music Festival in northern Quebec for summer residencies from 1997-99, and has taught and performed in residency at the Suomen Työväen Musiikkiliitto International Summer Music Festival in Teisko, Finland annually since 2005.
Gordon's performing credits include appearances at Alice Tully Hall and Bruno Walter Auditorium at New York's Lincoln Center for the Performing Arts, the American Embassy in Paris, the Circle of Fine Arts in Madrid, Tampere-Talo and Kuhmo's Lentua Sali (Finland), Pollack and Redpath Halls in Montreal, and several smaller venues in Canada, Finland, France, Italy, Spain, and the U.S.
Gordon has also authored a book entitled Sax on the Streets: Confessions of an American Street Musician in Europe, which chronicles his (mis)adventures performing saxophone duets with a friend across thirteen European countries in the late 1980s. Published by SynergEbooks, it is available online at http://synergebooks.com/ebook_saxonthestreets.html in electronic and CD-ROM formats.