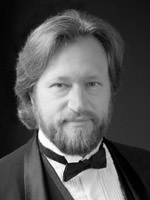 Since his debut in 2000, Erik Kroncke's unique bass voice has been in demand by opera companies and orchestras all over the world. He has been heard in such varied repertoire as Sarastro in Die Zauberflöte, Osmin in Die Entführung aus dem Serail, Gremin in Eugene Onegin, Ramphis in Aida, Commendatore in Don Giovanni, Philip and the Grand Inquisitor in Don Carlos, Hunding in Die Walküre, Fafner in Das Reingold, and Daland in Der Fliegende Holländer. He has appeared with many companies including the Sarasota Opera, Opera San José, Chautauqua Opera, Natchez Opera Festival, Green Mountain Opera, Bronx Opera, Austin Lyric Opera, Opera Fort Collins, Opera Colorado, Opera Theater of the Rockies, Hudson Opera Theater, Delaware Valley Opera, New Jersey Verismo Opera, Lyric Opera Virginia, and Opera in the Heights.
He was the American Wagner and St. Bonaventura award winner from the Liederkranz competition in 2008. The same year, he made his South Korea debut with the Korean W Philharmonic in Seoul as the bass soloist in Beethoven's 9th symphony as well as his debut with Opera San José as Gremin in Eugene Onegin.
His symphonic and oratorio performances have included engagements with the New York Philharmonic, Danbury Symphony Orchestra, Chautauqua Symphony, Vermont Philharmonic, and the American Classical Orchestra in such varied repertoire as the Shostakovich 13th, Haydn's the Seasons, as well as "The Three Basses" concerts. 2010 saw Mr. Kroncke as an award winner of the Gerda Lissner Wagner competition and his first concert performance of Die Winterreise with the Rochester Concert Series.
Mr. Kroncke has been an artist in residence at Natchez Opera Festival, an apprentice artist at Chautauqua Opera, and a winner of the 2002 and 2003 Friedrich Schorr Vocal Competition.