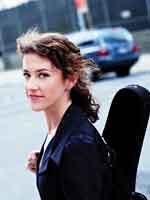 Described as "a consummate artist perform[ing] with convincing vigor and passion," violinist Sarah E Geller has performed to critical acclaim in many prestigious venues as soloist and collaborative artist. Beloved by listeners from coast to coast, Geller continually draws capacity audiences with her rich sound and palette of tone colors and her innate ability to deliver musical messages with a compelling yet gentle touch.
Geller creates one-of-a-kind programs as soloist and the founder of her ensemble, SEGUE. She often juxtaposes both the masterworks and unknown gems of the great composers with Latin and jazz-influenced works. Audiences have ascribed to Geller the ability to highlight the connections among diverse works.
Since making her Carnegie Hall solo recital debut as a winner of the Artists' International Special Presentation Award, Geller continues to perform extensively in her hometown of New York City and beyond with pianists Wenhan Anderson and Cheryl Tschanz. Geller's 2012-2013 season highlights include performances on the Lenox Hill Neighborhood House Second Sundays (NYC), On A Sunday Afternoon at Bruno Walter Auditorium (NYC) and the Distinguished Artist series (NY). In conjunction with the Community College of Baltimore County (MD) World Arts Festival, SEGUE will perform Ritmo, Color y Pasión, their in-demand flamenco program for violin, guitar, and flamenco dancer. Additionally, Geller becomes the newest member of the Vermont Contemporary Music Ensemble.
Geller created SEGUE in 2005 to feature flexible configurations of award-winning artists, musicians and dancers. SEGUE debuted its Ritmo, Color y Pasión program in 2009 to a standing-room-only audience at Lincoln Center's Bruno Walter Auditorium. SEGUE has gone on to perform countless sold-out programs on the East Coast, including Sonidos y Danzas Luminosos, with tango dancers, at the David Rubenstein Atrium at Lincoln Center.
Dedicated to educating the next generation, Geller first became known in her native Maine for her exceptional ability to inspire and nurture children. She now brings that ability to her Suzuki studio in Williamsburg, Brooklyn and to her students at The School for Strings (SFS).
For more information, visit www.sarahegeller.com.