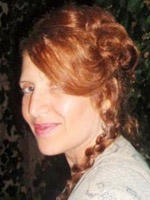 Laura Piperno Koplewitz was born in Washington State, and raised in Vermont, and now lives in South Burlington with time in New York. She teaches at Stony Brook University. She studied composition privately with Joan Tower and Stefania de Kennessey. Among other honors, she was selected for master classes in composition with Pulitzer-prize winning composer , Yehudi Wyner, at the Atlantic Center for the Arts. Laura has been selected for artists' residencies at the Tyrone Guthrie Center in Ireland, the Whitely Center /University of Washington on San Juan Island, and the Virginia Center for the Creative Arts. Laura has been a recipient of the "Creation Grant" from the Vermont State Arts Council for orchestral writing, and has been a panelist / judge for the Vermont State Arts Council classical music grant awards.
Commissions have included the Vermont Symphony Orchestra "Made in Vermont" series, the Stony Brook University Orchestra; the Vermont Contemporary Music Ensemble; the Green Mountain Youth Symphony; the Lyra Ensemble, the Grammy-winning Parker Quartet, the Blue Door cello / piano duo; and Theresa Thompson / Jasmin Cowin flute harp duo. Laura Koplewitz's compositions include a violin concerto written for Joanna Kurkowicz, concertmaster of the Boston Philharmonic, recorded with the Polish National Radio Symphony Orchestra. A commission from "Lunatics at Large" chamber ensemble for "The Sanctuary Project" premiered at Carnegie Hall (Weill).
Among Laura Koplewitz's upcoming projects, she is writing a string quartet for the acclaimed Hausmann Quartet, and a double violin concerto. The composer is affiliated with BMI, and her music is published by Arsis Press, a publisher of classical music by women composers. Website: www.laurakoplewitz.com.