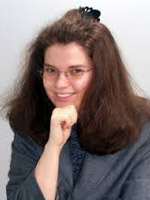 The music of Alexandra Fol (McGill DMus, Princeton Theological Seminary CTh) has been performed by ensembles such as the Montréal Symphony Orchestra, the Sofia Symphony Orchestra, the McGill Symphony, the orkest de ereprijs, the Orchestre de la Francophonie, the New Score Chamber Orchestra, the Trinity Wall Street Choir, the CYE ensemble, thingNY ensemble, among others. She has composed music for documentary movies, including one, sponsored by the NetHeritage fund of the European Union.
She was finalist for the Gaudeamus Prize, winner of the Leonard Bernstein Tanglewood fellowship and of a SOCAN prize, recipient of a SOCAN composers' residency, and laureat of the Molinari 6th International String Quartet Competition.
She lives and works as freelance musician in Montreal, Canada.
For more information, please, visit www.alexandrafol.wordpress.com.