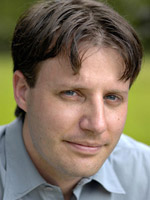 Damon Ferrante is a Simkins Award-wining composer, guitarist, and music writer. He has had performances throughout the US, Europe, and Asia, most notably, Carnegie Hall, Symphony Space, and Guild Hall. Over the next year, he will be on tour in the US, Spain, France, Italy, and Greece for performances of his music. He has written the film scores for Gabriela Jaime's Flor (Spain), Sonya Zolotaryovais's White Winter (Japan), and is working on the scores for several new films. Ferrante was appointed composer-in-residence for Montauk, New York for five years (funded by New York State Council for the Arts). His successful series brought world-famous composers, such as Mark Adamo, David Del Tredici, Ricky Ian Gordon, and Robert Aldridge, to Montauk for performances and talks on their operas and music. He has been the subject of feature articles in the Baltimore Sun, Baltimore City Paper, The East Hampton Star, and Johns Hopkins Magazine, and has appeared several times on National Public Radio. Ferrante has taught on the music faculties at Seton Hall University and Montclair State University. The Cignus Ensemble, Anderson/Fader Guitar Duo, Guild Hall, John Drew Theater, Roger Shapiro Fund for New Music, and Theater Project have commissioned works from Damon Ferrante. His scores and music instruction books are available on Amazon.com and his recordings are available on iTunes and Spotify.
Tim Smith of the Baltimore Sun calls Ferrante's music "focused and colorful…with an unexpected, decidedly poetic touch." Geoffrey Himes of Baltimore City Paper states, "If the tune has the elegance of traditional opera, the harmonization is very modern as the vocal lines climb and descend the melodic staircases that Ferrante has constructed for them." Anne Midgette, writing in the New York Times, cited Ferrante's opera Jefferson and Poe as one the three operas to see in New York in early December. Mary MacCauley of the Baltimore Sun describes his music as "ebullient and full of shifts of direction." Betsy Murphy of the Ridgewood News calls him "a star on the rise."
In 2003, Damon Ferrante founded Steeplechase Arts & Productions, a company integrating innovation, tradition, and collaboration between music and the arts. As director of Steeplechase, Ferrante has presented concerts and operas throughout the United States. Now in its twelfth year, the company has expanded its artistic efforts to include a robust music publishing wing. The publications, which include classical music scores and music instruction guides and courses, are available throughout the world. These publications have sold over 100,000 copies. In 2016, they will be available in Spanish, French, Italian, German, and Japanese editions in both paperback and digital editions.