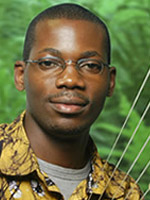 Damascus Kafumbe is an expert performer on various East African musical instruments and of numerous East African dance traditions. Dr. Kafumbe has presented nationally and internationally, contributed to world music textbooks, composed and produced world music albums, and built/maintained East African musical instruments for various academic and cultural institutions in the United States.
He directs the Middlebury African Music and Dance Ensemble. Dr. Kafumbe holds a B.A. in music from Makerere University (2004) and a M.M. (2006) and Ph.D (2011), both in musicology, from Florida State University. He is also an active member of the Society for Ethnomusicology (SEM), the African Studies Association (ASA), and the International Council for Traditional Music (ICTM).
Damascus Kafumbe is a gifted musician and composer from Uganda who delves into deep Ugandan musical traditions while creating unique and fresh musical expression on a variety of instruments. He is an integral part of a new generation that is bringing about a revolution in Ugandan indigenous music. Kafumbe is on the cutting edge of current Ugandan music as he brings traditional instruments and techniques to the forefront of his compositions. From the time he was a child in the village, he and his brother improvised making instruments from whatever they had on hand, creating music and learning the rich tradition of Kiganda music. Kafumbe went on to learn many of the folk instruments and music styles from his diverse country and studied music at the national university. — from Amazon Editorial Review
Kafumbe has recorded two albums under the Endongo label.  Gunuma displays Kafumbe's flowing lyrical style and his seamless layering of traditional and neo-traditional sounds. A 2005 CD, Kitaffe, combines his native Ugandan folklore with modern singer songwriter sensibilities to create a flowing and smooth sound.