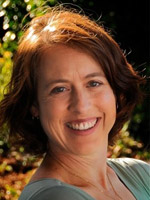 Maria Grenfell was born in Malaysia in 1969 and raised in Christchurch, New Zealand, graduating with a Master of Music degree from the University of Canterbury.  She completed further studies in the USA, gaining a Master of Arts from the Eastman School of Music in Rochester, New York, and a doctorate from the University of Southern California in Los Angeles, where she was also a lecturer.  Her teachers have included Stephen Hartke, Erica Muhl, James Hopkins and Morten Lauridsen in Los Angeles, and Joseph Schwantner and Samuel Adler in New York.
Maria Grenfell's work takes much of its influence from poetic, literary and visual sources and from non-Western music and literature. Her music has been commissioned, performed or recorded by all the major symphony orchestras in Australia and New Zealand, and numerous chamber groups in Australasia and overseas, including the Australia Ensemble and the Vienna Piano Trio.  Her works are broadcast regularly on ABC Classic FM in Australia and Concert FM in New Zealand, and released on Tall Poppies, Kiwi-Pacific and Trust CDs.
Maria Grenfell is Co-ordinator of Composition at the University of Tasmania Conservatorium of Music.  She assists at the Symphony Australia TSO Composers' School, an annual emerging composer program, and serves on the Board of the TSO.  She has also been a violinist with the Christchurch Symphony and the New Zealand Youth Orchestra, and has performed bowed piano with the University of Southern California Percussion Ensemble.  Her awards include the Jimmy McHugh Composition Prize and the Halsey Stevens Prize from the University of Southern California, the Composers' Association of New Zealand Trust Fund Award and the University of Otago's prestigious Philip Neill Memorial Prize. Maria lives in Hobart, Australia, with her husband, guitarist David Malone, and their two children.
Email: maria@mariagrenfell.com.au, website www.mariagrenfell.com.au.